The Controlled-Rate Freezer, CYTO Sensei, is a system that can cryopreserve your cells and maintain high cellular viability. The compact benchtop system is simply plugged into a standard wall outlet and connected to a designated laptop via a USB cable. Then it is ready to start without using liquid nitrogen. A custom freezing protocol can be easily programmed with the included software. Cell samples are then loaded into the custom aluminum freezer block (able to accommodate vials, vial racks, plate, straws or cryo bags) within the system and are then ready for cryopreservation. The powerful Stirling engine cools the cells to at the lowest of -80°C without the use of liquid nitrogen. Readings from 3 temperature sensors within the CYTO Sensei are automatically recorded in an available PDF report.  You can transfer the samples to cold storage such as a deep freezer. A built-in heater restores the freeze block to room temperature in preparation for the next cell cryopreservation protocol, increasing cryogenic storage throughput.
Features
Maintain high cell viability with this unique freezer. Cryopreservation is optimized due to the programmable controlled freezing rate this system is capable of. A very user-friendly interface allows custom freezing protocols to be programmed and cells to be preserved immediately. Simply program, place your vials and preserve.
Always be ready to preserve your cells and enjoy extremely low running costs thanks to the strong Stirling Cooler within the Cryocell. Liquid Nitrogen will not be necessary with the Cryocell system. The freedom from Liquid Nitrogen allows more resources and effort to be focused on the cells and tests in the lab. Scheduling and paying for Liquid Nitrogen deliveries each week will not be part of your efficient cryopreservation work in the lab with the Cryocell.
Many freezers require a moving team to relocate and a large space to house. The Cryocell occupies minimal floor or bench space, despite its strong cryopreservation performance. The standard system also weighs in at only 12.7 kgs  (27.9 lbs) and is outfitted with a large handle to ease portability. Movement of the system to a collaborator's lab or into the field allows diverse applications for cryopreservation needs.
Customizable Freeze Blocks
Efficient heat transfer is essential for effective cell cryopreservation. Our systems are outfitted with freeze blocks machined to the users' exact vial size and type to achieve this. Other models of the Cryocell utilize an ethanol bath that an entire vial rack (or 2) can fit within to increase throughput.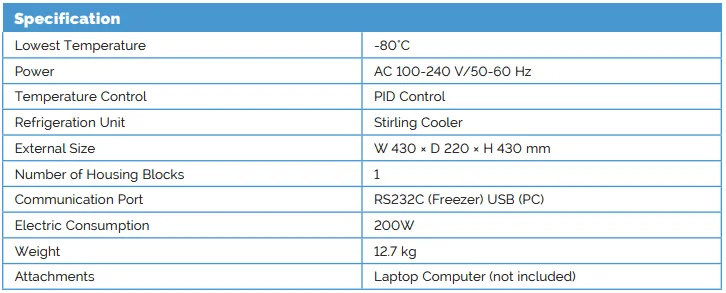 Programmable Cell Freezer model FZ-2000 has a capacity of a total of about 50 mL volume or 55 cryogenic vials (0.5-2 mL size) with up to 1 mL fill volume. We can configure to work with a 96 well plate format.
Custom sizes are available, please contact us for more information on how we can customize your needs.